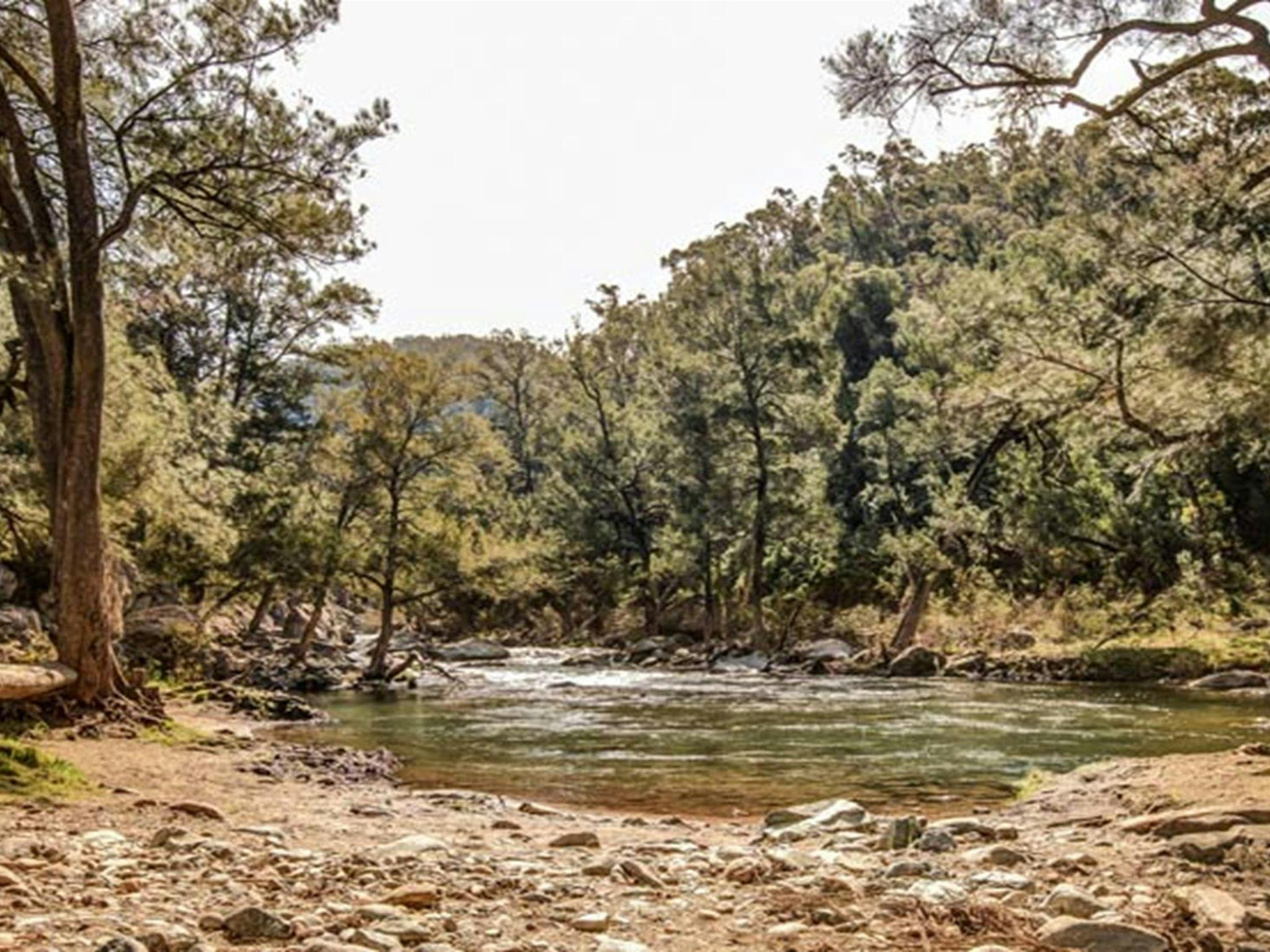 Flea Creek Picnic Area
Surrounded by the Brindabella mountains, Flea Creek picnic area is a great place to get away from the city for the day and idle away the afternoon under the shade of the casuarina trees. It s also a perfect lunch spot if you re 4WD touring throughout the park.

There s plenty of wildlife and birdlife to see here. You might find the yellow-tailed black cockatoo and peregrine falcon flying high above, or perhaps be lucky enough to spot a more threatened species like pink robin or the olive whistler.

Accommodation near thisattraction
Dog-friendly camping
Camping area
+ 4
Wee Jasper
Wee Jasper
Reflections Holiday Parks Wee Jasper (previously Wee Jasper Reserves) is the perfect spot to get a little closer to nature with pristine unpowered campsites, to reconnect with each other and with nature. A camping, caravanning and RV paradise, Reflections Wee Jasper has four beautiful primitive camping reserves and many spectacular places to stop and unwind.

Being the perfect spot for bushwalking or a wander along the Hume and Hovell Walking Track, bird species abound, let the feeling of peace and tranquility settle your soul. Think star-gazing evenings with marshmallows roasting over the firepit, or breakfast in pristine nature settings and Wee Jasper is the perfect place to immerse yourself in nature. Find things to do near Wee Jasper.
Wee Jasper is also the perfect spot for larger groups, school tours, club meetups and much more. Contact us here for group bookings.
*We are proud to say we are dog-friendly! Dogs are currently welcome all year round on all sites. Up to 2 dogs can be booked online, by phone, or in the park.
Burrinjuck Waters Holiday Park
Bookham
Big, beautiful and a bit off the beaten track, it's hard to resist the charms of Reflections Holiday Parks Burrinjuck Waters, a mecca for freshwater fishing and native wildlife in charming surrounds.
A 40-minute drive from Yass and less than two hours from Canberra, Wagga Wagga and Young, Burrinjuck Waters Holiday Park – set on 75 hectares on the shores of Lake Burrinjuck and the Murrumbidgee River – is the perfect escape for nature lovers.
Put down your phone and pick up a rod instead. There's plenty biting in the depths of Burrinjuck Dam. From Murray Cod to Carp and Trout, Burrinjuck Waters is famous for its fishing. It's easy to get the boat out and ideal for water skiing, kayaking and other water adventures.
For a limited time, Reflections Canoe Hire By Valley Outdoors is offering a unique Lake Burrinjuck experience for the whole family when you hire a canoe and get out an explore.
Prefer to stay dry? Bring your walking shoes and explore the park's surroundings, including the famous Hume and Hovell walking track.
There is so much to see and do near Burrinjuck - enjoy a game of tennis, volleyball or frisbee golf, say hello to the friendly 'roos and birds, then spend the night chatting with friends around the campfire, toasting marshmallows and spending quality time with loved ones.
Whether you're a camper or a caravanner, or you prefer a cabin for all the comforts of home, you'll be glad you checked in to this lovely part of the Yass Valley. Get comfy, explore the park's activities and facilities and prepare to create treasured holiday memories.
So take the bait; plan your next getaway to Reflections Holiday Parks Burrinjuck Waters.
*Unfortunately our park is not dog-friendly. For a full list of dog friendly parks head here.
Dog-friendly camping
Waterfront
+ 14
Grabine Lakeside Holiday Park
Bigga
Peaceful, picturesque and with sunsets to leave you breathless, Reflections Holiday Parks Grabine Lakeside is ideal for enjoying all the adventures Wyangala Dam has to offer.
Whether you're into heart-pumping excitement or simply sitting and savouring the water views, the luxury of being right next to this impressive dam is a recipe for timeless holiday memories.
A scenic drive from Crookwell, Boorowa and the wider Upper Lachlan Shire, a pilgrimage to Grabine Lakeside is the ultimate antidote for the stresses of the everyday.
Bring your boat; it's easy to get out on the water. Bring your rod; the fishing here is awesome. And bring your kids too; they'll remember this adventure always. Explore more things to do near Grabine Lakeside.
This large park offers bush camping right alongside the dam, so stake out your favourite spot and set up camp in your RV, caravan or tent. Powered sites are also available and there's a range of cabins too. The park is also dog-friendly for camping and caravan sites, so you can enjoy the great outdoors with your four-legged friends and the facilities and activities will meet your every need.
With its laid-back atmosphere, green rolling hills and scatterings of native wildlife cavorting on the shores of Wyangala Dam, it's easy to see why Reflections Holiday Parks Grabine Lakeside is such a popular spot for a relaxing getaway.
*We are proud to say we are dog-friendly! Dogs are currently welcome all year round on all sites. Up to 2 dogs can be booked online, by phone, or in park.