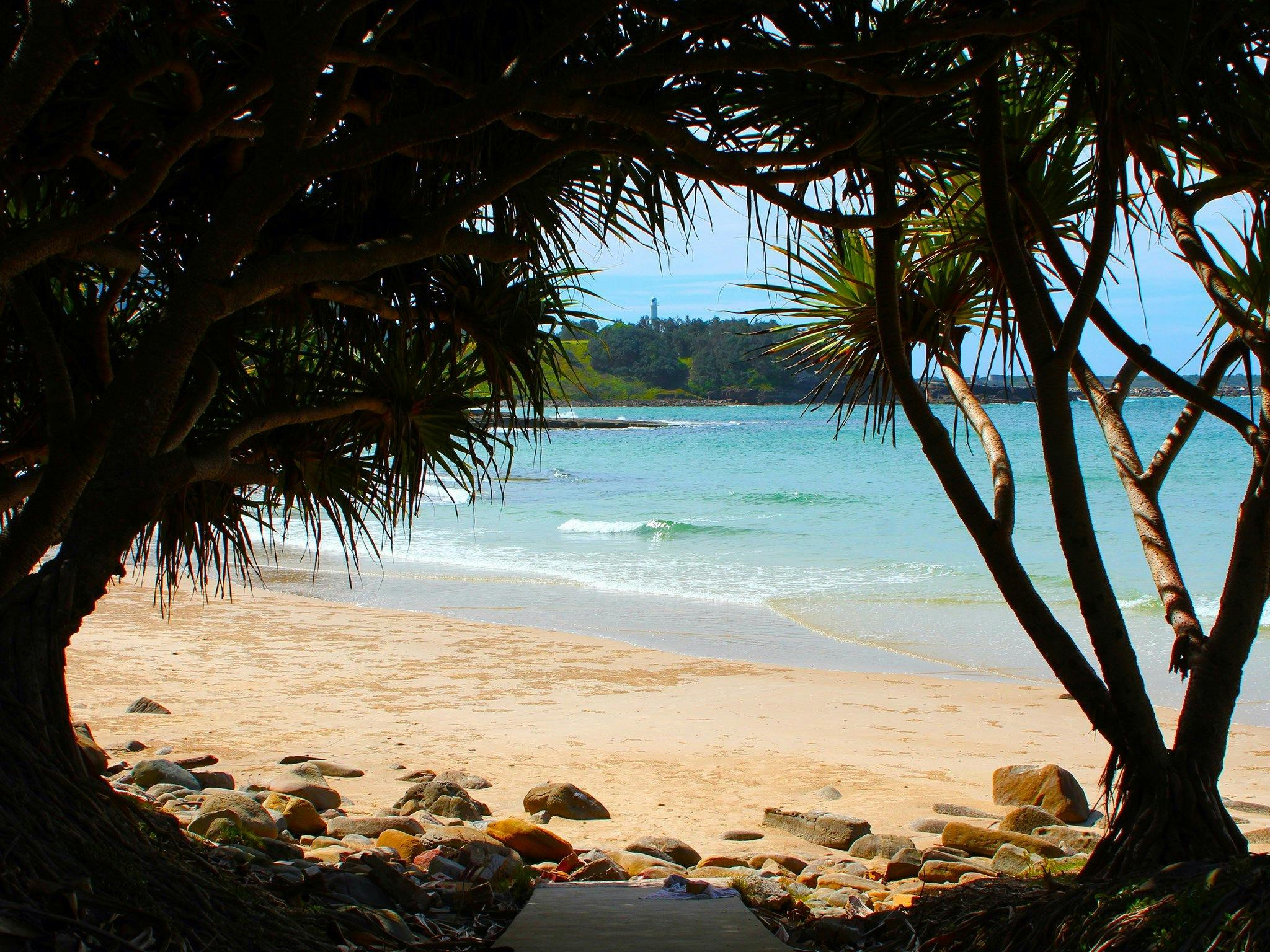 Convent Beach, Yamba, NSW, 2464
Convent Beach
If you like your beaches quiet, unassuming with a vague hint of devotional history, then Convent Beach is the place for you.

Originally named McKittrick s Beach, (after a pioneering businessman) it s been renamed to recognise the convent that overlooked it from 1900 to 1910. And such a beach deserves an appropriately peaceful name.
Tucked into Yamba s main bay, Convent Beach is a small, narrow affair, with vegetation providing shade, and separation from the houses that line the bluff above.

Access is from the backing road with street parking and a track from the southern end of the beach.
For its sheltered positon, and though it doesn t cop much surf (except for swells out of the north east), swimming at Convent Beach isn t as simple as you d think. There s a fair few rocks and boulders scattered around the place, so an appropriate degree of caution is advised.

And it may or may not have happened, but they like to imagine that back in the day many novices and nuns (they picture them in the full nun s habit, looking slightly penguin-ish) would walk this beach, pondering the sandy paradise their particular God created just for them.

Accommodation near thisattraction
Dog-friendly accommodation
Waterfront
+ 1
Yamba Lighthouse Cottages
Yamba
Perfectly located for water views, these Clarence Valley, heritage-listed cottages make the ideal unique holiday accommodation in Yamba.
With the iconic Yamba Lighthouse, Yamba Beach only a few metres away and located right at the mouth of the Clarence River, Yamba Lighthouse Cottages, on the North Coast of NSW are the perfect coastal accommodation breakaway. Explore the nature reserves, walking trails, beaches, and marine parks (a great spot to see dolphins, sea turtles, and migrating whales) by foot, boat or simply from the deck of your cottage. Explore more things to do in Yamba here
The two Yamba Lighthouse Cottages offer a unique holiday stay experience. One cottage sleeps 10 guests across 4 bedrooms, while the other sleeps up to 9 guests spread across 3 bedrooms. With spacious living areas, dining, and well-equipped kitchens, plus a verandah to relax on, these classic beach-side cottages are the perfect spot to unwind on friend and family holidays.
*We are proud to say we are dog-friendly! Dogs are currently welcome all year round. Up to 2 dogs can be booked online, by phone, or in park.
Accessible
Dog-friendly camping
+ 11
Evans Head Holiday Park
Evans Head
When it comes to heavenly holidays it's hard to go past Reflections Holiday Parks Evans Head. Big, beautiful and perfect for groups, this is an ideal spot to gather the gang, enjoy the stunning surrounds and spend quality time doing things that make your soul sing.
Just two hours from Brisbane and 10 minutes off the Pacific Highway, this lovely park is close to everything, yet a million miles from the daily grind. And when it comes to heavenly pursuits, Evans Head has plenty to choose from.
Kayaking and paddling in the crystal-clear waters of Evans River. Fishing the surf or the sandy river flats. Taking the surfboard out for a spin or walking the dogs on Airforce Beach. Exploring some of the nearby national parks or just kicking back with a drink at the adjacent clubs or hotels.
The dog-friendly Evans Head Holiday Park is one of the largest parks in NSW. From our self-contained cabins to the sites for caravans and campers, there's plenty of room for clubs and groups, and our facilities and activities will make your trip complete.
There is so much to see and do in Evans Head; learn about the town's intriguing aviation history at the Memorial Aerodrome Museum, take a dip at the new Aquatic Centre, or enjoy visiting the nearby towns of Byron Bay or Ballina.
A holiday that's Evans-sent; that's what you'll find at Reflections Holiday Parks Evans Head.
*We are proud to say we are dog-friendly! Dogs are currently welcome all year round on selected dog-friendly sites and cabins. Up to 2 dogs can be booked online, by phone, or in park.
Dog-friendly camping
Dog-friendly accommodation
+ 14
Red Rock Holiday Park
Red Rock
Just 30-minutes from Coffs Harbour, yet seemingly a million miles away, Reflections Holiday Parks Red Rock is about the important things in life – time with loved ones, lots of laughs, a loosening of the shoulders and lapping up this pristine coastal paradise.
This welcoming back-to-basics caravan park is the epitome of 'convenient tranquillity'. It's just a few kilometres from the highway but you won't hear a sound. You'll see stars like never before, kilometres of undeveloped coastline and water as crystal clear as you could imagine.
Find it all in the quaint town of Red Rock; a place that'll take you back to the holidays of your childhood. Spend your days fishing, strolling, swimming or biking. Bring the surfboard, bring the snorkel, or simply bring a comfy chair and relax. Find more things to do at Red Rock.
It's the easiest thing in the world to spend time at Red Rock. The large private sites are ideal for campers and caravaners, or make yourself at home in one of our cabins.
Enjoy your beach side glamping experience in our all-in-one premium cabins and beach tents. Our deluxe cabins and tents have all the home comforts and amenities to make your holiday even more enjoyable.
The park's facilities and activities are sure to make your stay a comfortable one and with the Corindi River on one side and the beach on the other, there are plenty of options to get back to nature. Dog-friendly, this park is perfectly located to enjoy the 3km boardwalk at Red Rock, around the river and the salty spray of surf from Red Rock Beach. For an off-leash experience, playful pups can run around at Corindi Beach to the south. When the adventuring is done for the day, both dogs and owners will be thankful for the deluxe dog bath with hot and cold faucets and an in-park takeaway restaurant that sells dog food.
There's the Red Rock Store opposite the park and a bowling club a short walk away so you may never need to leave Red Rock. But if you're looking for a base to explore the wider Coffs Coast – its attractions, villages, markets and food and wine – you've come to the right place.
*We are proud to say we are dog-friendly! Dogs are currently welcome all year round on dog-friendly sites and selected cabins. Up to 2 dogs can be booked online, by phone, or in park.